Tara Sullivan, DDS
My goal each day is to make dentistry comfortable, pain-free, and even enjoyable. I strive to provide each patient with personalized treatment that improves not only their oral health, but their overall health as well. I believe good communication is paramount to successful treatment, and I enjoy meeting and getting to know each of my patients. A visit to the dentist is a personal experience, and it's important for patients to feel comfortable. I have succeeded when patients leave my office smiling more confidently and chewing painlessly.
Education and Continuing Education
Prior to dental school, I graduated from Gonzaga University in Spokane, WA with a Bachelor of Science degree in Biology. Go Zags! I completed my dental training at Creighton University School of Dentistry where I earned my Doctorate of Dental Surgery.
The field of dentistry is perpetually changing with many new and exciting developments each year. It is important to me to keep up with the latest research in order to provide my patients with the highest standard of dental care. I regularly attend continuing education classes provided by the University of Washington. In addition, I am a member of many study clubs and professional organizations. The study club setting is especially useful because it allows generalists and specialists to share knowledge, experience, and ideas through case studies and subsequent discussions.
My professional affiliations include:
Outside the Office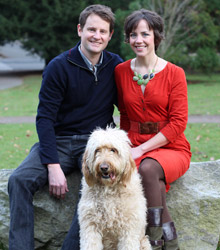 I grew up in a small mountain town in western Montana where I developed a love for the outdoors. Following dental school, my husband and I decided to move to Seattle largely due to its proximity to all the activities we enjoy. Along with our dog Bobby, we hike, camp, bike, ski, and snowboard as much as possible.
For the past five years, my husband and I have enjoyed living in the vibrant neighborhood of Capitol Hill. I'm excited to be serving the residents of this warm and active community.